Order Custom Compressed T Shirts - Unique Promotional Products
Compressed T Shirts
Custom Compressed Tee Shirts
Home of the Incredible Compressed T Shirt
Why is this the most powerful promotional tool for your event, tradeshow or party?
We use high quality brand name t shirts and compress them down to the size of your hand for a unique, one-of-a-kind, powerful promotional tool. We have hundreds of compressed t shirt shapes to choose from for your next event or promotion. It is the perfect marketing tool for your next business party, product launch, trade show, or promotional giveaway. Customize your compressed t shirt by selecting from a wide range of t shirt colors and screen print your custom image on the t shirt and full color digitally printed insert card.
Thank you for the letter you sent! Quite frankly I am in awe, I've never worked with a company (or a person) who would hand-write a note to a customer. Thank you for all of your help in making this whole international-cross-time-zone process much easier. I look forward to receiving the tees tomorrow.
Joshua Plant, The PR Consulting Group, Inc.
What is a Compressed T-Shirt?
How We Create a Compressed T Shirt
The first step is to screen print a high quality brand name t shirts with your logo or design. If you need assistance in creating artwork, our design department and extended design services can help.
After the t-shirt is screen printed we compress it with tremendous pressure into the stock shape of your choice. We have over 800 stock shapes available or we can even create a custom shape just for you. Lastly, we add the outer packaging – a full color printed insert card and durable shrink wrap.
When you open this unique promotional compressed tee t-shirt, you simple remove the outer packaging and wash and wear.
We start with a blank high quality brand name t shirts (many color options to choose from). Depending on your needs we can print up to 4 imprint locations using our digital or screen printing techniques.
Step 1: print t shirt
Once we have your custom image(s) applied it's time to compress the t shirt into the stock (literally hundreds of shapes to choose form) or custom shape of your choice.
Step 2: compress t shirt
The Insert card is the next step. Depeding on the final compressed shape we can include 1, 2, or 3 insert cards. This is a full color, digitally printed card stock that can be your provided artwork or you can choose to apply your logo to stock art.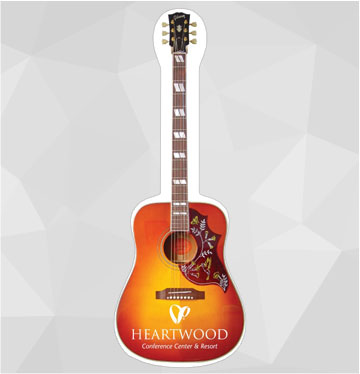 Step 3: insert card
The final result, you have the most talked about, exciting promotional items! It fits perfect in the palm of your hand. Once you have decided you want to open it up and wear your compressed t shirt you simply machine wash, dry, and voila, you're all set!
Step 4: packaged compressed t shirt that fits in the palm of your hand
Direct Delivery
We can drop ship directly to your trade show floor.
Competitive Pricing
We'll do our best to match or beat any competitors quote.
100% Quality Guaranteed
Name brand shirts, printing, and compression guaranteed.